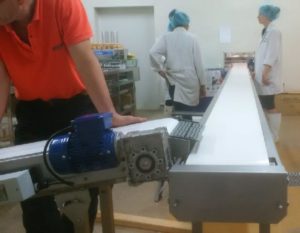 Ready to eat or snack products are a growth market and EQM has been involved in an exciting new food product that is set to hit supermarket shelves.
We're not going to reveal the product but our involvement came about following the Foodtech Packtech expo in Auckland last year.
A visitor to our exhibition stand could see that we could help solve a problem and complete their production line which involved moving a perishable, fragile snack food product from the room it's made and packed in through to the next room where it is packed into retail ready packaging, which in turn is packed into cardboard boxes and dispatched.
The company had begun installing the food packaging equipment but didn't have an End-of-Line system that would carefully move the fragile product from the hygienic packaging facility to where it would be boxed up and distributed to market.
Following consultation with the production manager and owner we scoped the requirements, came up with a layout plan and presented our suggested solution. Once the project was approved they asked us to contact the supplier of the specialist food packaging machine to get the detailed dimensions and final actions of the machine, so that the conveyors could be designed to fit seamlessly with it and handle the product correctly to prevent any product damage.
It took a series of belt conveyors with special transfers, that finally ended with a rotary table that accumulated the products for packaging. The layout also included room for expansion and duplication of the system to future proof it.
The project is a great example of how to get a successful outcome through the utilisation of EQM standard N-Track conveyor designs specially adapted to fit a specific product and purpose.
"We make it very simple for our clients, we start with a discussion to get a better understanding of their requirements, we get a first-hand look at the facility, collect information on the existing equipment and discuss your preferred production line layout. From there we can develop layout drawings if necessary and recommend the most effective system and flow.
"It doesn't always work this way but the outcome will be much more successful if we are engaged in the early stages."
We had limited time between when the final parts of the packing line arriving and our conveyor needed to be completed and installed this production line was up and running just a few days later. It's all about constant communication with the customer to make sure we are answering questions as well as exceeding their expectations.