Resene is a household name and an industry leader in paint and coating products. The company continually grows its product range and production capacity to keep pace with our desire to keep our surroundings looking fresh and new.
Michael McInnarney, Resene's Manufacturing Manager, oversees the production of more than 12 million litres of paint a year. With each batch of paint produced at the Resene factory in Lower Hutt, comes the daily challenge of filling, lidding, batch-coding and packing each can into a carton. Michael wondered how he could automate the process.
He contacted EQM about an issue with his end-of-line packing after seeing some solutions on our website that delivered productivity in other industries. Can accumulation was non-existent and carton packing was not working well at the Resene factory, so was costing him production time and money.
Michael had purchased and installed a new DeVree paint can filler and lidder in the factory earlier, and with another scheduled to arrive, he quickly realised the existing 2m gravity roller conveyor with a very small rotary table to accumulate the cans was creating several problems:
the packers couldn't keep up with the volume of paint cans coming at them, so the filling machine was not able to be run at its rated speed.
accumulation capacity of the rotary table was less than 30 seconds of production, so packers had to remain very focused.
Task:
EQM's brief for finding a solution had to include:
Creating a conveyor system with enough surface space to accumulate 5 minutes of production at a maximum filling rate of 26 x 4 litre cans per minute.
Developing a design that automatically diverted cans to accumulation space and reintroduced them when packers caught up.
Creating easy access and better ergonomics for up to 4 people stacking the cans into the cartons.
Bringing all cartons to one point for transfer onto a pallet leveller.
Ability to conveyor and guide 4 can sizes – 0.5 litre, 1 litre, plus 2 litres and 4 litres with handles, with a heavy footprint weighing up to 6kg for a 4 litre can without damaging the product because the outside of the cans is susceptible to denting.
All within a 5m x 5m floor footprint to keep packing staff out of the forklift operating lane.
Solution:
EQM did a site visit to scope the project, then a layout plan was developed and confirmed. A full 3D design model was created, refined and approved by the client.
With a collaborative team of CAD draftsmen, fabricators and assembly engineers, the system was created, assembled and tested at EQM to iron out any potential operating issues. As part of this extensive pre-delivery commissioning process, every operational component of the project was thoroughly checked, inspected and tested.
Once the team was completely satisfied with the performance of the system, it was packaged and delivered to Resene, so it could be installed by their engineers. With paint production near full capacity, a two-week shutdown was all that was given to install and commission this system, as well as realign the new DeVree fillers.
The conveyors were fitted together onsite in just two days, followed by electrical wiring and control system programming. This included testing and optimising an operating recipe for each can size. Operators and packers were trained in the use of the new touch screen control system and how to best load the cartons, although as the system was so intuitive and packing stations designed with ease of packing in mind, they learnt and adapted to the new operating and packing procedures within minutes.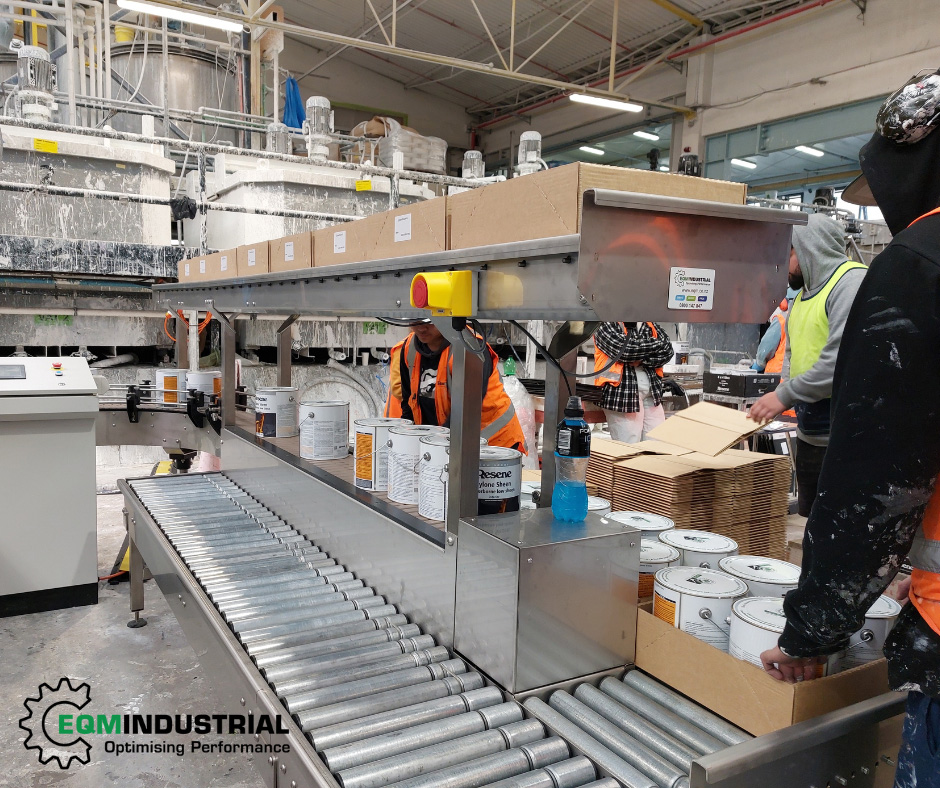 Benefits:
The new system increased productivity because the DeVree filler doesn't need to be stopped in the middle of a production run. There is now enough can accumulation for more than 5 minutes when packers are absent, and cans get automatically re-introduced onto the feed conveyor once packers catch up, without human intervention and while production continues.
EQM's solution has improved efficiency, with room for four packers to load cartons, and empty cartons positioned within arms' reach so they don't have to walk away to fetch them. The pallet stacker now has time to erect and load empty cartons onto the packaging rack, as well as help load full cartons that accumulate on powered rollers onto pallets. It has also improved ergonomics for the packers too, benefitting their posture. They can now comfortably lift cans off the conveyors and place them in cartons without having to turn their bodies.
The user-friendly touchscreen control system is simple to operate. One touch selection of can-size selects the correct recipe, a programmable operating sequence of conveyor speeds, sensor times and shuttle actions. Settings can be changed by remote access, without the programme designer having to visit the site.
EQM has developed a solution that is very quiet and efficient. It processed an impressive 11 pallets in two and a half hours on the first production run, and feedback from Michael confirms that it continues to run well.
System Conveyor and Control Features
Cans transported without assistance from filler and around a corner to packing stations on slatband conveyor.
Slow-moving reversible table to accumulate cans on smooth modular belting.
Transfer and accumulation of full cartons on band-driven powered roller conveyors.
Pre-erected empty carton supply with optimal positioning on a overhead-mounted gravity roller conveyor.
Can diversion to accumulation and re-introduction onto packing conveyor by pneumatic shuttle system.
Safety system with emergency stops (and reset procedure) located near packers and filler operator – CAT3
Optimal can handling thanks to variable speed controllers on all can conveyors.
Easy-to-operate touchscreen control, including operator help function and service setting for manual operation of each conveyor.
Simple process for changing can size. No setup changes needed, just select from the 4 can sizes on the dropdown on the touch screen.
Before we designed this bespoke solution, we had quality discussions with Michael, asking the right questions to really understand his unique needs. This resulted in a very satisfied customer, who wants more, and proudly shows the system off to whoever comes to view it!
Contact us for a solution to increase productivity on your end-of-line packing at your production line today. Benefit from our knowledge, expertise and experience.
Better by Design.