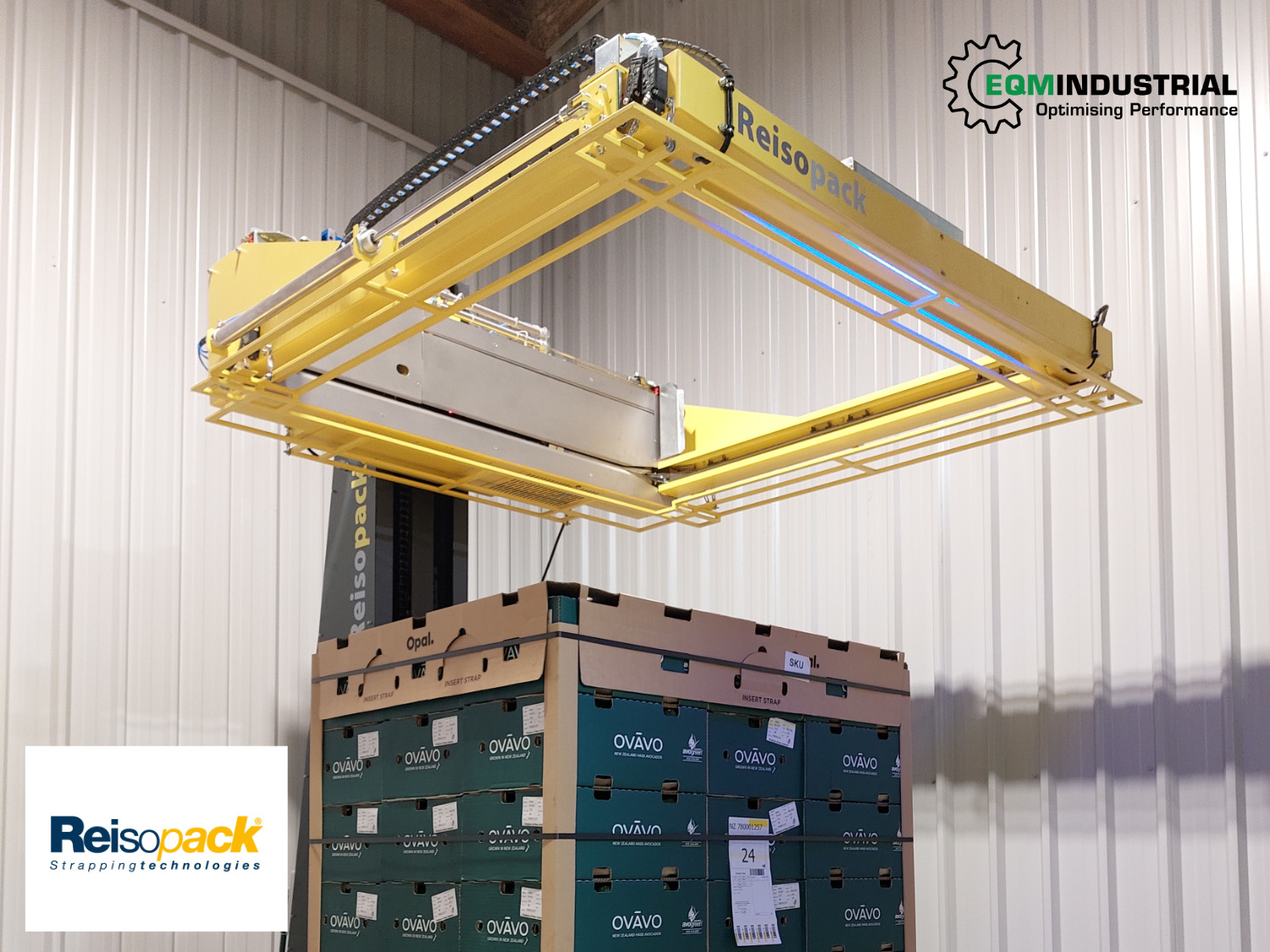 Solving Pallet Strapping Challenges……Reisopack – our solution to this challenge.
Having limited space in his new avocado packhouse, Nathan Henderson from Southern Paprika Limited was not wanting to strap 40-plus pallets a day by hand!!
The client:
Southern Paprika Limited (SPL) was formed in 1998 with the construction of a 2.5-ha glasshouse just outside of Warkworth. Over the years they have grown to 4 separate complexes and a total of 27 ha of state-of-the-art glasshouses.
15 years ago, they purchased a Reisopack pallet strapper for their original capsicum packhouse and have seen the benefits this equipment has made to their business. When it came to establishing their new Avocado packing line, they approached us at EQM Industrial as the New Zealand Reisopack agent.
What was needed…the challenge?
With labour and expert resources hard to find he needed something that did not need a lot of labour, was reliable and could work continuously to lift productivity. The kit had to be reliable, certified and fully compliant. And to keep his team safe the solution needed to exceed NZ health and safety requirements.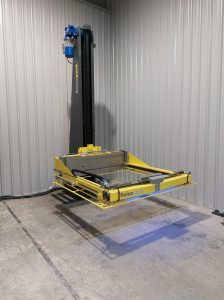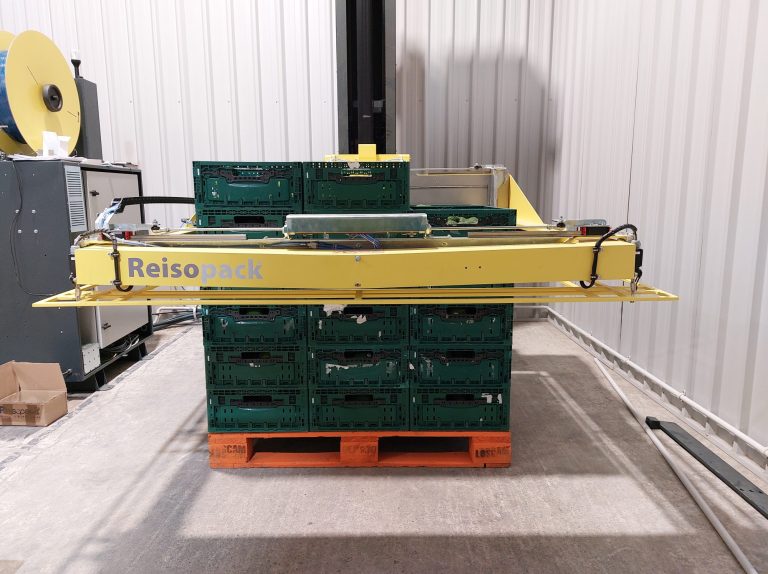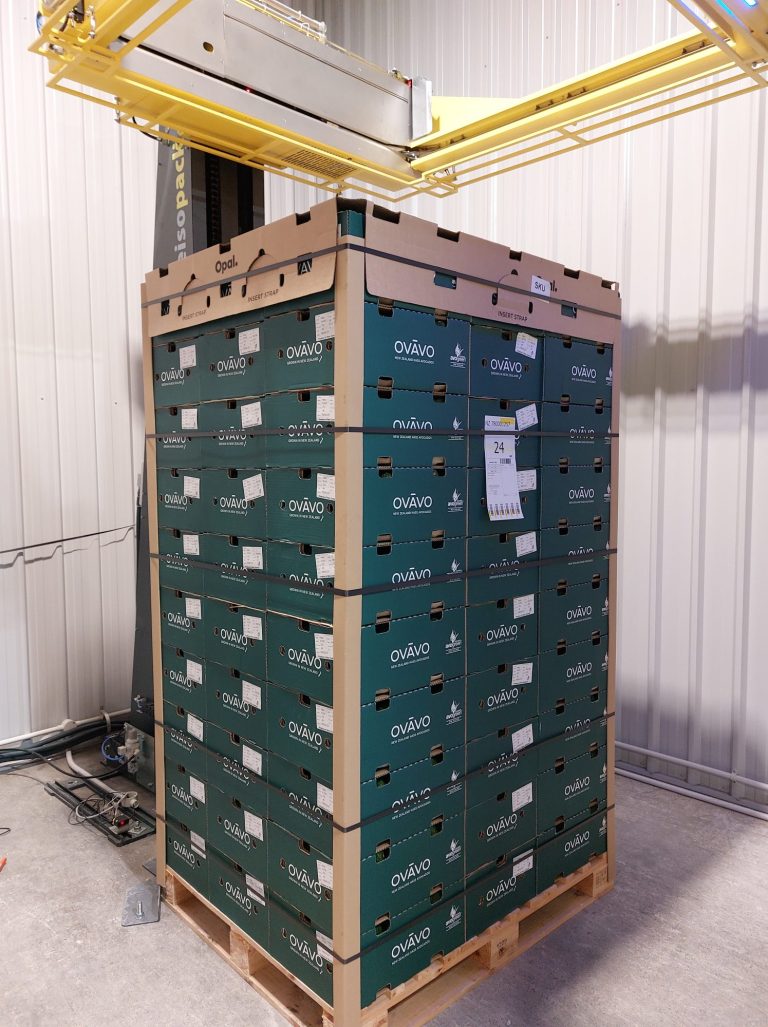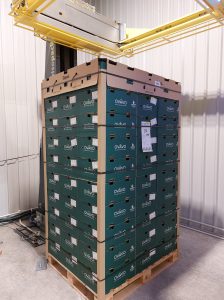 Our Solution…
Having previously purchased a Reisopack Pallet Strapper, SPL management had good experiences with the product, and they knew it would work. Understanding Nathan's business and where he wanted to go EQM Industrial knew the 2903 Reisopack Strapper would be perfect for his needs now and for the future.
A single-position automatic pallet strapper would locate perfectly in the corner of the packhouse without taking too much valuable space but ensure it would operate efficiently and support his operating plan.
Our team was tasked with importing, delivering and installing the latest model 2903 horizontal strapping machine and ensuring that additional fencing and safety scanners were installed and certified to meet NZ strict Occupational Health and Safety compliance regulations.  Getting the equipment set up correctly as soon as it arrived with minimum disruption for Nathan was our number one priority.
Reisopack Strapping Technologies has been making strapping machines for over 25 years, so there's no surprises that innovation is part of everyday life in their new factory in Spain. A few of the features that add benefit to the SPL avocado line are:
Easy to program touchscreen control system.
Ability to customize up to 10 different strapping programs.
Allows pallet to be strapped at any height – starting from 130 mm above the floor.
Up to 10 different strap heights on the same pallet.
Long equipment life and low maintenance.
Operator Protection system under head with instant reversing.
Easily integrated into an automatic pallet conveyor line in the future or work alone.
To make the 2903 Reisopack easier to operate and provide consistent highly presentable strapped pallets of cartons or crates every time, we added some innovative optional features:
Electronic tension adjustment – easy to change from carton to crates.
Strap empty alarm – let the operator know so there's minimal downtime.
CRC Corner Relocator system – to help place the corner boards in the right position every time.
How did EQM deliver on the Reisopack promise?
Our team at EQM Industrial are specialists in packhouse equipment and the components that make automation and conveyors productive. We collaborate with other industry experts to deliver upon our customers' expectations in a timely manner.
To get the packing season started we loaned SPL a semi-automatic battery operated 2820 model Reisopack strapper until the shipment arrived.
To install the 2903 Reisopack we worked with a team of local electricians, machine installers, health and safety experts and certifiers, side by side with the packhouse manager and machine operator to get the Pallet Strapper setup and operating within a few days of arrival in New Zealand without interrupting one day of packing.
Importantly for Nathan the 2903 Reisopack Strapper installed on-site for SPL is the first featuring the new Reisopack colours and branding in New Zealand.  Packed with features like new LED headlights, touchscreen controls with video operator training and new corner board correction (CRC) innovation, was a massive advance on previous models and made operating the equipment for Nathan and his team very easy.
And the end result
The new equipment delivered:
Daily packing with no interruptions – The innovative technology within the 2903 Reisopack means that SPL can strap pallets every day of operation without interruption.
A minimal footprint – Utilising a minimal footprint within their packhouse whilst maintaining the quality of their products with avocado export-approved strapping means that Nathan is a very happy customer!
Increased productivity – only one operator is required for pallet strapping, reducing the demand on precious labour.
Understanding the challenge – By understanding the client's needs, providing advice and project layout design and support and meticulously managing logistics this project is already producing great results for SPL.
Interested in Pallet Strapping automation?
Interested in seeing a Reisopack Strapper in your packhouse? Get in touch with our team to discuss the model that best suits your specific situation and let us arrange a visit to SPL to see this innovate technology in action. You won't be disappointed!!