It's not a leaking rotary table but a rotary table that is used in the processing and packing of leeks.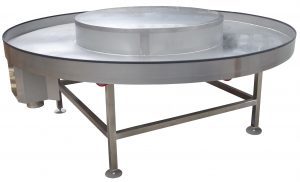 EQM has designed and built a large 2450mm round rotary table for a fresh produce company that mimicked the previous design and size but instead of fiberglass materials, the new table is completely stainless steel including the geardrive.
The brief was to make it similar dimensions to the old existing rotary table but with some unique design modifications suggested by the client such as creating small drainage holes towards the middle of the table to assist with the daily washdown.
This huge table is used to accumulate leeks and other fresh produce at the end of an automated washing conveyor line. This table is much larger than we have ever made before compared to our standard rotary tables so that more people can fit around it when packing produce into crates, therefore a new custom design and build was the answer.
Tim Bloxham says "It's quite unique with its raised centre piece so that produce doesn't accumulate in the middle of the table, so that those packing don't have to reach very far across the table."
Fitted with the latest "EQM Clean" IP69K stainless steel geardrive completes the fully washdown design exceeding all expectations and requirements for hygiene now and into the future as consumers demands for higher standards in food packing lines are being adopted.