One of Hawke's Bay's largest packhouse operations has installed a conveyor that has paid back its investment in super quick time.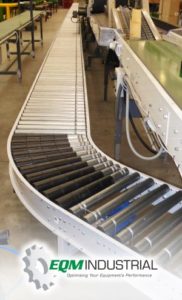 The 30-metre carton conveyor has eliminated the need of a forklift and driver as well as improving packing efficiencies so much that it will recover its cost in one season.
EQM's Anthony Bloxham says the conveyor takes cartons from a remote bag and punnet packing area alongside a single lane  fruit sizer and under some existing conveyors to match up with another conveyor to be taken to the carton palletising.
"A forklift was commuting  a lot from the main stacking area to this area so that's no longer required as the conveyor has become the transporter of cartons. This has eliminated a health and safety issue as well as vastly improving efficiencies. It's going to pay for itself in one season.
Another benefit is the opportunity in future that the conveyor lends itself to automation of palletisation of cartons and consolidating pallet dispatch into one area.
The conveyor can also play a wider role as it can easily take cartons from various other packing lines along the way and cartons can be loaded and unloaded anywhere along its length.
If you're looking for a standard or tailored conveyor solution give Tim or Anthony a call.