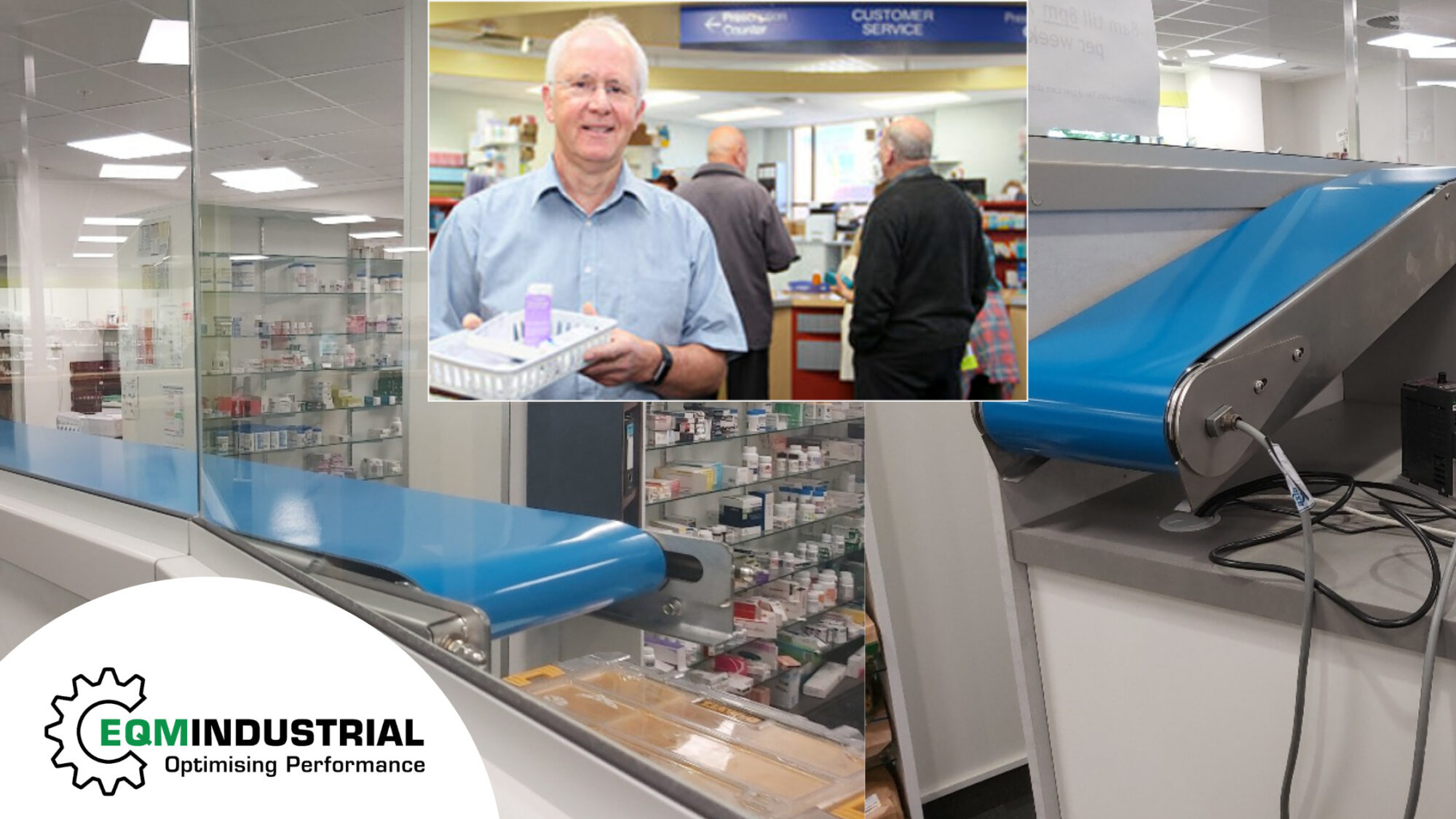 Did you know that the Hastings Health Centre is a cornerstone accredited which endorses quality care across their medical and health services? This health centre provides an array of services from general practitioners and a fracture clinic to physiotherapy and therefore has a very busy pharmacy. Being only 3-years-old and purpose-built, the staff and management are always on the lookout for ways they can improve their services and manual tasks with innovations.
Where does EQM fit?
A pharmacy is not our usual type of client; however, we were more than happy to be able to lend our expertise to the situation.
As many of us would have seen, working behind the dispensary counter in a pharmacy can lead to people being on top of each other and walking to and fro to dispense medication. Paul Messerschmidt, Owner of Hastings Health Centre Pharmacy, wanted to create a smoother flow for his dispensary, so he approached EQM Industrial with his idea of adding a conveyor belt to help.
The Layout
Paul was looking for something discreet and functional. He wanted to ensure that whatever measures they took were not an eyesore for patients yet eased the workflow behind their dispensary counter. Not to mention, the solution needed to be practical and safe for their workplace conditions and if possible, fascinate their waiting patients.

Our Solution
In order to fit within the pre-existing dispensary structure that is setup behind a long glass partitioned wall, we designed and installed a very low-profile N-Track hygienic belt conveyor that runs horizontal just below the glass line but above the dispensary bench. All the waiting patients can see the prescriptions moving towards the counter. At the end of the conveyor, it declines out of site to an accumulation table behind the sales counter. We also installed some smart sensors at different points along the conveyor.
These sensors were to ensure that the belt did not run continually but started only when the plastic trays that held each prescription were placed on the belt. Once the accumulation table at the end of the conveyor is full another sensor turns off the conveyor until they are checked and cleared by the counter staff. The sensors along with a variable speed drive delivers efficiency and safety for the team.

Another Great Benefit
Of course, when this N-Track Hygienic Belt Conveyor was put in place, the flow of work and ease of access was a big consideration. One spin-off was when COVID-19 lockdowns turned up, this essential workplace conveyor system provided the required social distancing for the team without any additional partitions and procedure changes being required.
Summary
With the premise of simplifying the workflow, the resulting semi-automation of this workplace has not only eased the bottleneck, but also created additional double checking of prescriptions for patients with added health and safety benefits to the team.
Let EQM deliver real productivity through optimizing your processes with innovative conveyors and drives today!