A task that was heavily labour intensive has once again been assessed and re-evaluated by EQM Industrial.
In this instance pre-erected boxes were required as part of the packaging process, however a pad and a plastic liner were both needed to be inserted into every 2 and 5kg cherry cartons.
The pad was necessary for the purpose of absorbing moisture while the liner was designed to maintain the fruit and keep it in premium condition.
This practice took several employees and was fairly slow with a lot of bottlenecks.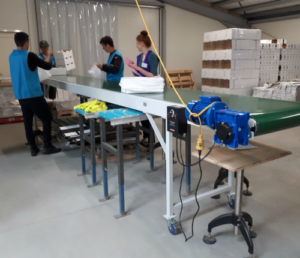 EQM assessed the situation and supplied a 700mm wide x 6m conveyor belt.
The conveyor was mounted up on wheels at waist height (ideal for packing) with a variable speed drive.
The new set up was designed so that the person unloading the pallet full of boxes could do so at a reasonable rate; while 2 people added liners, one added pads into the pre-erected boxes, and one at the end stacking the boxes on to trolleys for the packing line.
The use of a conveyor drove production, reducing the employee count at that one station down to 5 instead of up to 12 staff.
This in turn meant that employees could be re-allocated elsewhere and those that stayed on this production line could be set with more realistic and more efficient goals and targets.
Wave goodbye to bottlenecks! If you are interested to know more about our expertise in factory productivity improvements, contact us and see how we can help you blitz production targets.