EQM Industrial provided expert services to our client who was looking for a custom solution with their conveyor system.
The physical product purchased was a standard N-Track conveyor which elevated blueberry punnets from a punnet filling machine up to a rotary accumulation table. However, for a specific blueberry grower and packer, this conveyor did so much more. EQM Industrial assessed the whole blueberry packing line and discovered that various parts of the conveying process had been someone's improvised innovations.
This, unfortunately, was not ideal. Despite the creativity, it meant that extra labour was required to continuously assist with the conveying process.
We put forward a list of possible improvements for the blueberry packer and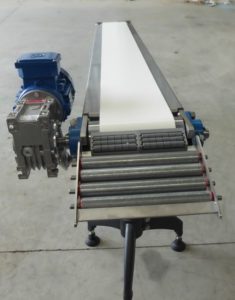 the punnet elevator was the first project to get underway.
The N-Track conveyor that was supplied added automation into the existing packing line; ultimately reducing production costs by allowing for that additional labour to focus on other production areas and eliminate a bottleneck at the same time.
The conveyor set up was a standard design, but worked in conjunction with an Inkjet printer for applying pack dates, batch numbers and so forth.
The "packed on date" is now a mandatory market requirement for packers who distribute their product to supermarkets.
The standard conveyor design even has the capabilities for a label applicator to be added into the line, if and when the customer ever wished.
Disruption? no longer! EQM industrial has the expertise when it comes to conveyors and packing lines.
If you are experiencing some disruption and wish to increase your production efficiently, contact the team today.