A fruit production line has had a modern makeover that resolved a weighty problem.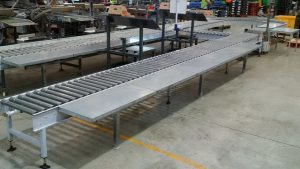 The packing line used for a wide range of fruit – from stonefruit such as peaches and plums to pipfruit such as apples and pears has increased productivity substantially but more importantly eliminated the risk of under-weight product being sent to market.
Using the old system, staff randomly selected the packaged fruit to weigh and then anything under or over weight was manually rejected or adjusted to correct weight. The new system is now automated and has enabled staff to be relocated to other parts of the production line.
EQM installed a new band driven roller conveyor with infrared sensor technology to detect cartons of fruit coming on and off an existing checkweigher.
The smart sensor detects and indexes the cartons by applying a brake to the driven rollers for just long enough to make sure only one carton, regardless of size, is on the continuous checkweigher at any one time.  The checkweigher sends a signal to another infrared sensor if the carton is to be rejected and a chain transfer built into the powered roller conveyor line lifts the carton and transfers it onto another conveyor, where they accumulate until Quality control staff attend to it.
The layout of this conveyor system in a loop allows Quality Control staff to re-introduce the adjusted rejected cartons back onto the original conveyor line so it passes across the checkweigher again double checking and not disrupting the flow of cartons to the stacking area.
The outcome has been better utilisation of the labour as well as significantly increasing the accuracy of the weight of each carton. This means less risk of market claw backs or returns for underweight cartons or giving away significant amounts of fruit due to overweight cartons.
The pay back through lowering risk and lost fruit could bring a return on capital investment in its first season.