Not every project can be catered for with an out of the box solution. So, when we were first contacted by Hill Laboratories, we knew that their case was no different.
Their Request?
Help streamline their process.
Install roller conveyors to suit their existing trays.
Must be completed within 6 weeks, over Christmas and New Year.
First off, we needed to know what they do. Founded in 1984 Hill Laboratories has grown to become New Zealand's largest privately owned analytical laboratory. They use the latest technologies to supply a broad range of laboratory tests to domestic and international markets in three testing areas: Agriculture, Environmental and Food.
Next, we moved on to their specific requirements and requested a layout plan of their new lab along with the details of the trays and products to be carried. This gave us the information we needed to find the best solution.
Due to the tight turn-around, Hill Labs believed that a standard off the shelf product was all they were going to be able to achieve. Our team had a different idea! After assessing their laboratory specifications, we were able to recommend a suitable customised gravity roller conveyor using standard parts to suit their needs.
"We were pleasantly surprised that EQM would be able to deliver our roller conveyors in less than a month from our initial enquiry" said Brad Stevens, BOP Branch Manager.
Even though we were faced with closures due to public holidays and shut down periods, our dedication to customer service meant that we were able to deliver the solution within the given time frame. Which is evident in the feedback we received from Stephen Haylett-Petty, Project Manager "Thanks for your help in pulling this together so quickly."
This was especially important to Hill Laboratories due to the impact of COVID and the shortage of workers in the Kiwi Fruit industry. Having a process such as the two-tier conveyors, has enabled Hill Laboratories to streamline a very manual process and relieved a lot of movement of their staff.
The rollers installed are set up as a two-tier conveyor, enabling the trays of kiwi fruit to go from the storage room to the testing lab and once tested return under and back again, without any physical inconvenience to the staff. As you can see in the images, the conveyors enable the fruit trays to sit directly beside the workstations, at a height that ensures staff can easily retrieve the fruit as well as return the trays safely.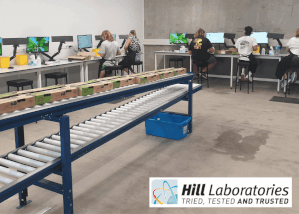 Can we help you?
Are you looking for a solution for your workplace and not sure that an out of the box solution is quite right? Contact us today to discuss your requirements and timeframe, so that we can provide the best solution for you and your business.